Contents: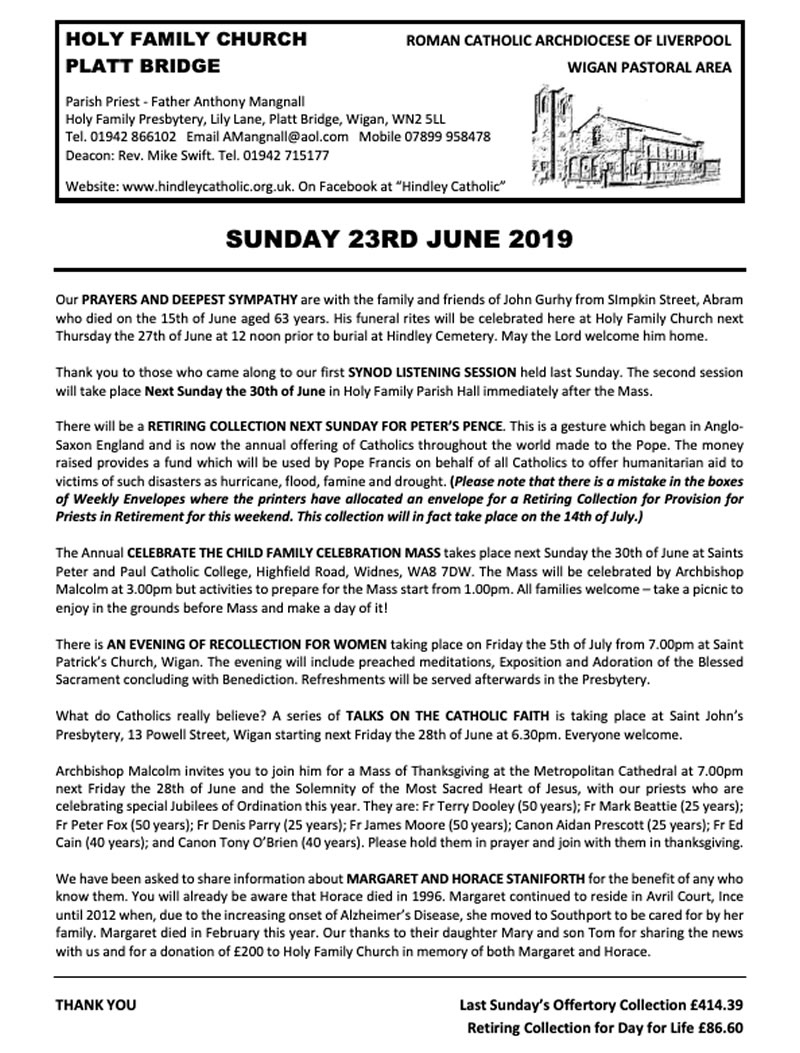 ---
St Benedict's Newsletter is not available
---
This Sunday's Readings


First Reading

 

              Genesis 14:18-20
Melchizedek king of Salem brought bread and wine;
he was a priest of God Most High.
He pronounced this blessing:
"Blessed be Abraham by God Most High,
creator of heaven and earth,
and blessed be God Most High
for handing over your enemies to you."
And Abraham gave him a tithe of everything.


Second Reading

 

        I Corinthians 11:23-26
This is what I received from the Lord, and in turn passed on to you: that on the same night that he was betrayed, the Lord Jesus took some bread, and thanked God for it and broke it, and he said, "This is my body, which is for you; do this as a memorial of me." In the same way he took the cup after supper, and said, "This cup is the new covenant in my blood. Whenever you drink it, do this as a memorial of me." Until the Lord comes, therefore, every time you eat this bread and drink this cup, you are proclaiming his death.


Gospel Reading

 

          Luke 9:11-17
Jesus made the crowds welcome and talked to them about the kingdom of God; and he cured those who were in need of healing.
It was late afternoon when the Twelve came to him and said, "Send the people away, and they can go to the villages and farms round about to find lodging and food; for we are in a lonely place here." He replied, "Give them something to eat yourselves." But they said, "We have no more than five loaves and two fish, unless we are to go ourselves and buy food for all these people." For there were about five thousand men. But he said to his disciples, "Get them to sit down in parties of about fifty." They did so and made them all sit down. Then he took the five loaves and the two fish, raised his eyes to heaven, and said the blessing over them; then he broke them and handed them to his disciples to distribute among the crowd. They all ate as much as they wanted, and when the scraps remaining were collected they filled twelve baskets.
---
Sunday Reflection 12th Sunday in Ordinary Time

What is a Miracle?

The word miracle describes a happening, inexplicable by natural or scientific laws. Miracles, generally held to be the work of God, are extraordinary and welcome. They are often revealed through ordinary people.
Luke's Gospel for Corpus Christi (9:11-17) has greater clarity if we begin at verse 10. It tells of elated but weary Apostles just returned from their first missionary experience. Jesus wanted to bring these closest collaborators apart, to a peaceful place for some rest and recuperation. But, the crowds discovered their location and came in their thousands. Jesus safeguarded the privacy of his Apostles by himself taking on the healing and the teaching of the people.
With the end of the day approaching, the Apostles asked Jesus to send the crowds away as they would need to find both food and lodging. Jesus answers the Apostles: "Give them something to eat yourself." The Apostles had very little provision, just five barley loaves and two dried fish. There's a message here, barley made the poorest and least nourishing bread. It was known as the bread of the poor. Luke says there were five thousand men to say nothing of the sick, the women and the children.
You may like to consider two ways of visualising this miracle.
One: It happened as it is told in the Gospels, Jesus multiplied the five barley loaves and two fish not only to feed ten thousand plus people but also to provide a substantial surplus to help sustain them as they made their journey home.
Two: could it have been that many, individuals and families in the crowd, had brought a little food for themselves. But, seeing the crowds, each fearing that they would be forced to share their small amount with outsiders. So, they kept their food hidden. People fearing hunger can be determinately selfish. Then the people watched as the Twelve laid their small amount of food before Jesus. This moved others to reveal their previously hidden food. Thus began a seemingly endless succession of people adding to the Apostles meagre store so that, in the end, there was more than enough food for everyone.
In this alternative interpretation the miracle was how Jesus' presence changed anxious self-interest into a willingness to share. His presence allowed human selfishness to be transformed; suspicious and watchful folk became generous. Quite likely, Jesus still caused the food he received to be multiplied so that all could have their hunger satisfied. The miracle brought home the meaning of the traditional prayer every Jew offered before every meal:
"Blessed art thou, Lord our God, King of the world, who causes bread to come forth from the earth."
Jesus, as a Jew, would not have eaten without first giving thanks to God, the giver of all good gifts.
This miracle can remind the Baptised that they have it within themselves to become the nourishment that so many long for, often without realising it. When the faith of the Baptised is vibrantly alive with God's grace it radiates from them in a self-deprecating way. Like a ripple travelling across water, faith communicates itself through a person's behaviour, disposition, attitude, as well as words and actions.
Nourishment is more than the food we long for or ingest. Our daily prayer, reflection, fasting and almsgiving brings nourishment to the souls of others as well as our own. We are constantly told of fellow human beings whose limited food intake means they live with undernourishment and death by malnutrition or disease on a daily basis. We only have to think of the recent appeals of the DEC (Disaster Emergency Committee). Our 'widow's mite' contribution to the DEC, when united with that of many, many more, has the capacity to become life-saving and life-sustaining to a degree that is truly incalculable. Yet, tragically enormous as the number of the sick, the homeless, the starving and medically-deprived are, they barely register against the incalculable number of our fellow human beings who are, today, spiritually starving through being dangerously enmeshed in the secularism of our contemporary society, especially in the West.
When we genuinely petition God for his help, that is when such petitioning is our daily habit, his grace helps us to overcome that core selfishness which, having initiated humanity's separation from its Creator, still afflicts people today. Only God's grace, within us, can amplify our fragile altruistic effort to be faithful, loving and just in our interaction with others for His sake.
It is of course a matter of choice which interpretation of the miracle of the feeding of the (five) thousand appeals to you. I am persuaded to support the second interpretation since, incidentally, this is the only miracle of Jesus related in all four Gospels (Matt.14:13; Mark 6:30; John 6:1).
Our celebration of 'Corpus Christi' is, in the first place, the affirmation of our belief of the Real Presence of Jesus Christ in the Eucharist. But, consequential to this, we must also affirm our individual responsibility to become the sacred food that we are given as nourishment so that, through our example in word and action, others may be fed the life-giving Word and Eucharist.
You may care to reflect on Pope Francis' teaching at his General Audience at the Vatican on Wednesday 27th March 2019. The Pope was continuing his Wednesday catechesis on 'The Our Father'.
In the "Our Father", in the second part of the prayer, we present our needs to God. The first such petition, "give us this day our daily bread", stems from the fact, often forgotten, that we are not sufficient unto ourselves. We need to be nourished every day. Yet Jesus teaches us to make this invocation united with the many men and women for whom this prayer is also a plea, forged amid a daily struggle for the bare necessities of life.
Seen in this light, Jesus' words appear with even greater force, reminding us that Christian prayer is not an exercise for ascetics, but emerges from the needs of real people. The bread we are to seek, then, is not 'my' but 'our' bread. Jesus wants us to pray, not just for ourselves but for our brothers and sisters.
In this way the "Our Father" becomes a prayer of empathy and solidarity. We see such a desire to assist others in the miracle of the feeding of the five thousand, where Jesus also anticipates the ultimate offering of himself in the bread of the Eucharist, which alone is capable of fully satisfying our hunger for God himself."
(Pope Francis 270319)
Some months ago, Pope Francis also said:
"The Eucharist is not a prize for the perfect but a powerful medicine and nourishment for the weak."
We are all classifiable as weak because we are recovering … sinners.
---